Creative Grids Itty-Bitty Eights Square Ruler 6in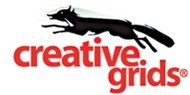 Shipping in 48 hours
Tax included
- delivery time based on your residence
This 6 inch Itty-Bitty Eights Square Ruler designed by Lisa Bongean of Primitive Gatherings features easy to read 1/8 inch markings. The black and white dashed eighth inch markings show on both light and dark fabrics. The dashed 1 inch grid lines ensure accuracy when cutting pieces for miniature quilts. Refer to the black diamonds when cutting 1/8 inch units; the white diamonds when cutting 1/4 inch units.
The ruler slides easily over the fabric until pressure is applied. Then, our exclusive gripper holds the fabric in place while cutting, eliminating slipping and miss-cuts! The Itty Bitty Eights Square is also available in a 15 x 15 inch size (Item CGRPRG4).
Total Size - 6in x 6in
Create an account and join to our cumulative discounts program. Spend at least zł150.00 and get 3.00% discount.
Product Details
Designer

Lisa Bongean

Country of origin

USA

Kod producenta

CGRPRG2
CGRPRG2
12 other products in the same category:
Customers who bought this product also bought:
Special rulers
NOT-8823759
Fast - Accurate Triangles can now be cut from the same strips used for squares. Designed with 1/4in seam allowance.
Special rulers
NOT-CGR60DIAMINI
Meet the Mini 60 Degree Diamond Ruler! It has all of the great features of the 60 degree Diamond Ruler (CGR60DIA) but in a smaller, easier to manipulate size for smaller projects! The mini cuts 60 degree diamonds; hexies; and triangles up to 4-1/2 inches. Maximize the design potential by cutting them from strip sets. It comes with fully illustrated step...